@Poppo Ito-Yokado Makuhari
Collaborating with Seven & i Food Systems Co., Ltd.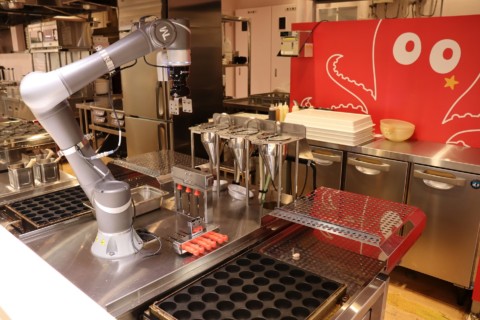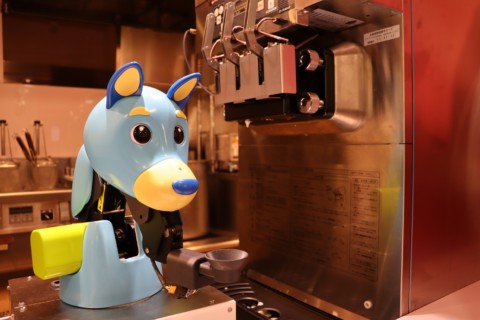 As we disclosed on July, Connected Robotics has started the collaboration with the Seven & i Food Systems, one of the major players in food service industry in Japan. As the first step, we have successfully installed and started the operation of our Takoyaki Robot (Octo Chef) and Soft Cream Robot (Reita). This is the debut of these two kinds of robots in Kanto area.



A kitchen with sense of presence and fun where robots and people cook together
Unlike traditional restaurants where only people cook, our Takoyaki Robot "OctoChef" performs a series of operations from pouring dough to baking and sorting into dishes. You can also see the Soft Cream Robot "Reita" performing the work process from winding the soft cream to serving it. We will provide a fun and creative food joy through our immersive kitchen, where our robots and people cook together, making it fun not only to see, but also to eat.
Saving the labor by utilizing deep learning robots
Our robots combine collaborative robots that can operate safely with people and cutting-edge technologies such as deep learning through image recognition. This reduces the burden on employees working in the kitchen and improves work efficiency.
Expected effects by introducing cooking robots
Food quality will be stable and delicious.
The time to cook in front of hot iron plates can be greatly reduced, this reduces the burden on employees.
You can produce a live feeling and enjoyment that is different from human cooking.
You can reduce the employee training time and the loss.
Brief
Store name: Ito-Yokado Makuhari Store's Food Court "Poppo Makuhari Store"
Operating company: Seven & i Food Systems Co., Ltd.
Robots' ability:
Takoyaki Robot (Octo Chef) 96 pc (12 people) in 20 mins
Soft Cream Robot (Reita) Provision speed 45s / pc
PR:Yurika Takano
TEL:03-4520-5786