INTERVIEW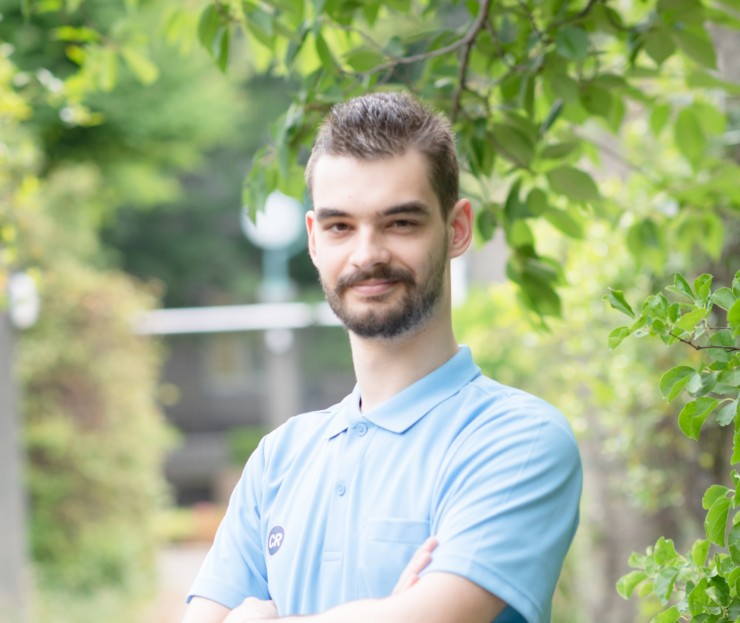 Jacques
ロボットコントローラーエンジニア
正社員の第1号社員はフランス生まれのJacques!
入社前のバックグラウンドは?(Brief background of his life)
I was born in France with my two triplet borthers (yes, we look the same) and grew up in the UK. I studied Electronics & Information Engineering for my Bachelor, and Space Engineering for my Master in the UK. After I graduated from my Master course, I came looking for a job in Japan and I started working here at Connected Robotics Inc. !
入社動機は?(How did he come across Connected Robotics?)
I decided to look for a job in Japan because I like Japanese food, culture, anime & technology. It was difficult to find a job in Europe as a graduate, as big companies want experienced engineers they don't have to teach. I applied at Japanese companies to find my first job experience and Japanese cultural experience. I came across Connected Robotics on LinkedIn, so I sent an email to the founder Tez and booked a flight to Tokyo. We met a week later and he offered me the job a week after. Faster than I could ever imagine !
どんな仕事を担当している?(What's his tasks?)
I'm in charge of software development on the Takoyaki project.As it is the first CR project, I also try to develop tools and solve problems that can help the whole company. I share my output with my colleagues and ask them to give me feedback, so we can all benefit from the progress, even on newer projects.
仕事の醍醐味・やりがいは?(What is the most interesting point of CR work?)
When I work on a CR project I am involved in every aspect of the project. So the work never gets boring and I can broaden my skills and my perspectives. The founder Tez always does a good job to show us the goal or vision of a project. But at the same time he gives us full responsibility for our work, so we have the freedom to develop our ideas. This motivates me to achieve success.
コネクテッド・ロボティクスを一言で表すと?(How do you describe about CR in one word?)
「Caring」
I think everyone in CR cares about our company's success. I like this atmosphere in CR!
仕事をする上で大切にしている価値観は?(What's your core value of working?)
「Communication」
I think communication is the most important. Even when I'm facing a problem, I can rely on my colleagues to help me out and they can rely on me to help them out. With good communication we're all motivated about each other's success.
オフの過ごし方は?(What is your hobby?)
I like Japanese Anime, so I usually hang out with my friends to Anime meetups on Fridays. If you're interested, join me! I also dabble in video games, manga, warhammer, swimming, tennis, table-tennis, karate...