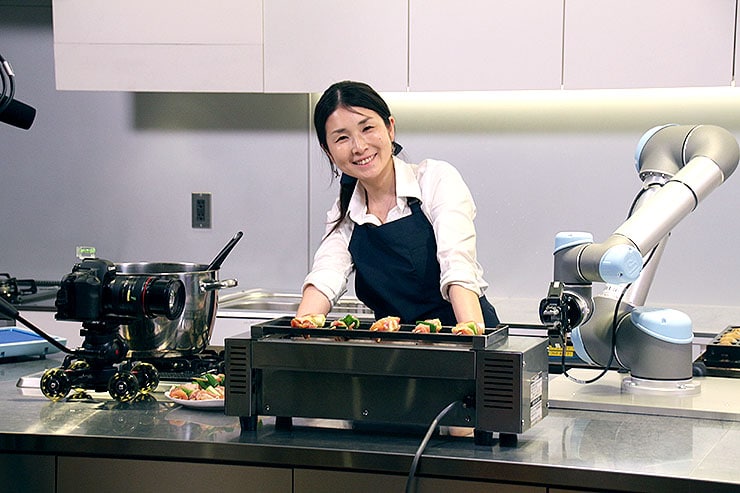 Job title
Public Relations Specialist
Overview
"We innovate kitchens with robotics and contribute to resolving the worker shortage problem in the food industry"
The food industry in Japan is facing a serious shortage of workers. In fact, many restaurants close down because they can't find enough people to work for them. Some try to shorten business hours to remedy this, but we all need a more fundamental solution to the problem.
Our robots are saviors to the industry. In Connected Robotics, we develop robotic systems to help people cook and wash dishes in restaurants and homes.
We are looking for PR specialists who can proactively take actions. "Combination of AI, Kitchen and Robot" is the keyword in our PR activities. Because of what we do, we are lucky to get a lot of media attention. To make the best out of this situation, we want to show the world more enthusiasm about what we do and create.
Perhaps we can do more of these:
Produce videos that create hype around our latest robot
Talk to media with videos of robots to see if they can make articles out of them
Your role may sound like it's a little marketing oriented, but we are all after the same goal: to make something great and to let everyone know about it. Come talk to us if you think you can help us communicate better with the world.
Overview
Build video content strategies
Build exhibition strategies
Build public relations strategies
Act as a media outlet and take proactive actions
Create press releases for product launches
Carry out press conferences
It's a tough but exciting job. Plan your tactics and put them into action involving people around you. You'd be a best match for us if you can tell a story in your PR strategy.
Experience in PR field is preferred, but you are also welcome if you are an experienced sales specialist and motivated to move things forward. If you are a PR person who resonates with our vision — "to innovate the kitchen with robotics" — we are looking forward to your application.
Office location
Nokodai Tama Koganei Venture Port 2-24-16
Nakacho, Koganei-shi
Tokyo, Japan
Nearest station: JR Higashi-Koganei station (7 mins. by walk)
Salary
Will be determined according to experience, background, skills and abilities of the candidate.
Benefits
Minimum 118 days off work annually, including weekends and 14 special paid leaves
* Japanese national holidays are working days in our office, but instead we offer 14 special paid days off on top of regular annual paid leaves. Unlike other developed countries, it's rare to find companies that let you take longer vacations in Japan, but we chose this system because we want our employees to rest well.
* 10 annual paid leaves will be added on top of the above days once you've worked here for more than 6 months. The number of these annual paid leaves will also increase as you stay with us longer.
Commuting expenses covered (a max. limit applies)
Social insurances covered
Rent assistance available (Owned houses are excluded. Some restrictions may apply.)
Unlimited Takoyaki and soft serve available during development periods
Gym and pool in front of the office (200JPY/h)
Pick any computer you like for your job
Free coffee
Skills, experiences and knowledge
Experience in PR (not mandatory)
Background in consultation/trading/proposal-based sales is also welcome
Who you are
Curious, patient and creative, always eager for improvements.
Language skills
Native in Japanese (JLPT N1)
Excellent command of the English language as you will work with your colleagues in English
Selection process
Casual interview
Skill and aptitude evaluation
Reference check
Final interview
How to apply
Please apply from the link below.