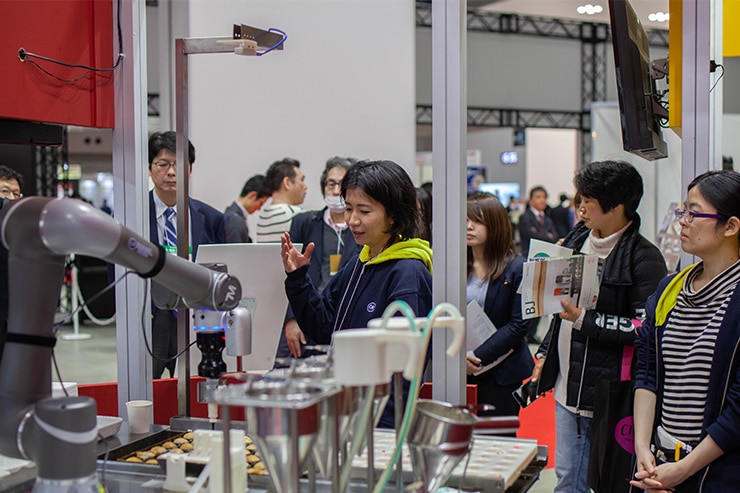 Job title
Sales Specialist
Overview
"We innovate kitchens with robotics and contribute to resolving the worker shortage problem in the food industry"
The food industry in Japan is facing a serious shortage of workers. In fact, many restaurants close down because they can't find enough people to work for them. Some try to shorten business hours to remedy this, but we all need a more fundamental solution to the problem.
Our robots are saviors to the industry. In Connected Robotics, we develop robotic systems to help people cook and wash dishes in restaurants and homes.
Since our organization mainly consists of engineers, CEO Tez and COO Taiki are the only current sales force. Sales specialists will be assigned to various kinds of tasks. We put a lot of work in creating these kitchen robots, but that doesn't make things easier to get the world understand how valuable they are. Because it's something nobody has ever done, there are no previous examples or definite answers.
OctoChef, the Takoyaki* robot, was our first successful case, and we are accelerating its sales. To keep our momentum going, we look for sales specialists to sell newly developed kitchen robots with us.
*Takoyaki is a Japanese favorite ball-shaped snack made of wheat flour-based batter with chopped octopus and other ingredients inside.
What you'll do
Sales activities
Plan and manage schedules to open new stores/restaurants
Correspond to inquiries
Prepare for exhibitions
Customer success
Realizing RaaS
We aim to grow our business as RaaS (Robotics as a Service). Unlike the conventional way to sell robots with an integrated system, we rent out our robots as service packages like SaaS in software field. Sales is not over when we deliver the robot, nor is it just about updates and maintenances; it's important that we accompany our customers, caring if their revenue has also increased from the introduction of our robots.
Your role as a sales specialist is not just about selling our products. Other aspects of this role include providing professional opinions during store planning, establishing/maintaining a good relationship with collaborators (e.g. kitchenware manufacturers, sign makers, plumbers and architects) and following up customers after delivery. A good, long-lasting customer relationship is always important.
Many of our world's-first kitchen robot services are on their way to be released. If you are up for an innovative mission that could move the world one step forward, come join us!
Office location
Nokodai Tama Koganei Venture Port 2-24-16
Nakacho, Koganei-shi
Tokyo, Japan
Nearest station: JR Higashi-Koganei station (7 mins. by walk)
Salary
Will be determined according to experience, background, skills and abilities of the candidate.
Benefits
Minimum 118 days off work annually, including weekends and 14 special paid leaves
* Japanese national holidays are working days in our office, but instead we offer 14 special paid days off on top of regular annual paid leaves. Unlike other developed countries, it's rare to find companies that let you take longer vacations in Japan, but we chose this system because we want our employees to rest well.
* 10 annual paid leaves will be added on top of the above days once you've worked here for more than 6 months. The number of these annual paid leaves will also increase as you stay with us longer.
Commuting expenses covered (a max. limit applies)
Social insurances covered
Rent assistance available (Owned houses are excluded. Some restrictions may apply.)
Unlimited Takoyaki and soft serve available during development periods
Gym and pool in front of the office (200JPY/h)
Pick any computer you like for your job
Free coffee
Skills, experiences and knowledge
Sales strategies
Our sales are almost all "pull" strategies. We mainly correspond to inquiries, but since we deal with a lot of large enterprises, discussions should proceed with care.
We also participate in exhibitions roughly twice a year, so you will also be involved in preparation and development schedule management for those events.
Sales and product development
Sales specialists also participate in product development because they are the most aware of customer needs and pain points. Your job is to let the engineers know what you saw and heard at the site to improve the quality of the product.
We keep polishing the products even after delivery so that our customers stay happy using them. It's your job to contribute in providing robotic services that ultimately become indispensable for all of our customers.
Language skills
Native in Japanese (JLPT N1)
Excellent command of the English language as you will work with your colleagues in English
Selection process
Casual interview
Skill and aptitude evaluation
Reference check
Final interview
How to apply
Please apply from the link below.