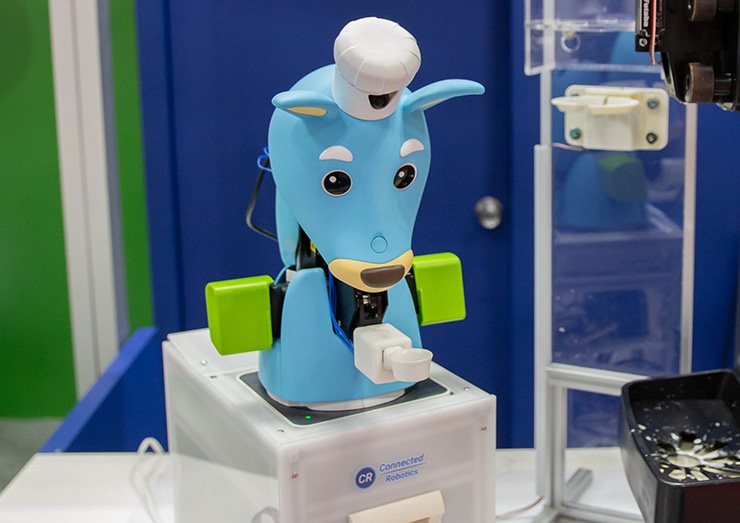 Overview
"We innovate kitchens with robotics and contribute to resolving the worker shortage problem in the food industry"
The food industry in Japan is facing a serious shortage of workers. In fact, many restaurants close down because they can't find enough people to work for them. Some try to shorten business hours to remedy this, but we all need a more fundamental solution to the problem.
Our robots are saviors to the industry. In Connected Robotics, we develop robotic systems to help people cook and wash dishes in restaurants and homes. We are currently looking for someone who is interested in designing robotic restaurants from scratch.
This role includes designing service concept, user experiences, robots' and systems' exterior, proposing graphics for the restaurant's interior/exterior, changing/adjusting the look of the kitchen tools, adding entertaining elements to the robots' face/voice/action, etc. We would also love you to design booths for exhibitions/demos as well as presentation/sales documents, so it actually covers all of the design aspects of our company. If you are someone with passion and style, come talk to us!
Office location
Nokodai Tama Koganei Venture Port 2-24-16
Nakacho, Koganei-shi
Tokyo, Japan
Nearest station: JR Higashi-Koganei station (7 mins. by walk)
Salary
Will be determined according to experience, background, skills and abilities of the candidate.
Benefits
Minimum 118 days off work annually, including weekends and 14 special paid leaves
* Japanese national holidays are working days in our office, but instead we offer 14 special paid days off on top of regular annual paid leaves. Unlike other developed countries, it's rare to find companies that let you take longer vacations in Japan, but we chose this system because we want our employees to rest well.
* 10 annual paid leaves will be added on top of the above days once you've worked here for more than 6 months. The number of these annual paid leaves will also increase as you stay with us longer.
Commuting expenses covered (a max. limit applies)
Social insurances covered
Rent assistance available (Owned houses are excluded. Some restrictions may apply.)
Unlimited Takoyaki and soft serve available during development periods
Gym and pool in front of the office (200JPY/h)
Pick any computer you like for your job
Free coffee
Skills, experiences and knowledge
Experience with Adobe Illustrator and Photoshop
Experience in using CAD, 3D CAD applications
Language skills
Native in Japanese (JLPT N1)
Excellent command of the English language as you will work with your colleagues in English
Selection process
Casual interview
Skill and aptitude evaluation
Reference check
Final interview
How to apply
Please apply from the link below.