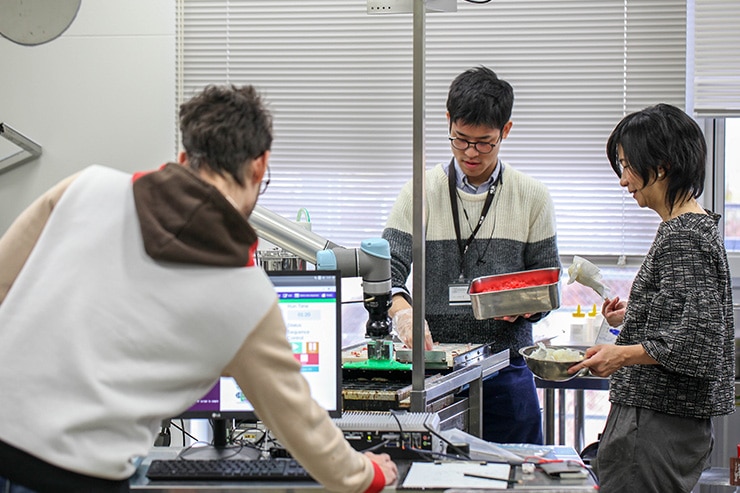 Job title
Product Test Engineer
Overview
In Connected Robotics, we develop robotic systems that cook or do dishes, trying to reduce the workload in restaurant/home kitchens. As a Product Test Engineer, your role is to check if the robots are according to previously agreed specs and to assure quality upon delivery.
Our job is not just about making robots. The robots are developed to ultimately solve worker shortage problems in the food industry, and it is an extremely important starting point that the robots properly function at the installed site. As a young startup, we strive to provide great quality products to our customers, and to do so, we believe Product Test Engineers play a big role.
What you'll do
Discuss with software and hardware engineers to decide which tests to perform, contribute to development of optimal robotics systems
Develop testing frameworks for software engineers to accelerate development efficiency
Educate fellow engineers for better understanding of quality improvement
Robot technologies have gotten quite popular around the globe. As we also aim to expand our business overseas in the future, our office is international and diverse in age and gender. We look for Product Test Engineers eager to work on new and challenging projects with us in this environment!
Office location
Nokodai Tama Koganei Venture Port 2-24-16
Nakacho, Koganei-shi
Tokyo, Japan
Nearest station: JR Higashi-Koganei station (7 mins. by walk)
Salary
Will be determined according to experience, background, skills and abilities of the candidate.
Benefits
Minimum 118 days off work annually, including weekends and 14 special paid leaves
* Japanese national holidays are working days in our office, but instead we offer 14 special paid days off on top of regular annual paid leaves. Unlike other developed countries, it's rare to find companies that let you take longer vacations in Japan, but we chose this system because we want our employees to rest well.
* 10 annual paid leaves will be added on top of the above days once you've worked here for more than 6 months. The number of these annual paid leaves will also increase as you stay with us longer.
Commuting expenses covered (a max. limit applies)
Social insurances covered
Rent assistance available (Owned houses are excluded. Some restrictions may apply.)
Unlimited Takoyaki and soft serve available during development periods
Gym and pool in front of the office (200JPY/h)
Pick any computer you like for your job
Free coffee
Skills, experiences and knowledge
Minimum qualifications
Advanced knowledge in software quality
Skills to create automated testing tools
Code review skills (Deep knowledge and understanding of Python and C/C++)
Experience and knowledge in agile software development
Who you are
Curious, patient and creative, always eager for improvements.
Language skills
Native in Japanese (JLPT N1)
Excellent command of the English language as you will work with your colleagues in English
Selection process
Casual interview
Skill and aptitude evaluation
Reference check
Final interview
How to apply
Please apply from the link below.