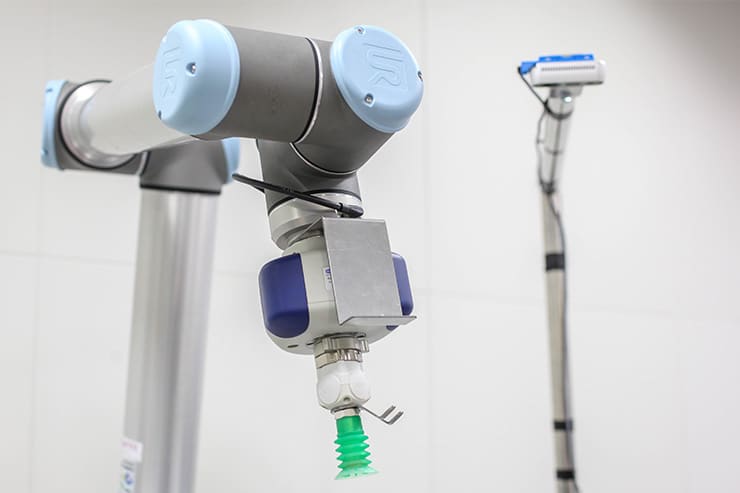 Job title
Image Processing Software Engineer
Overview
"We innovate kitchens with robotics and contribute to resolving the worker shortage problem in the food industry"
The food industry in Japan is facing a serious shortage of workers. In fact, many restaurants close down because they can't find enough people to work for them. Some try to shorten business hours to remedy this, but we all need a more fundamental solution to the problem.

Our robots are saviors to the industry. In Connected Robotics, we develop robotic systems to help people cook and wash dishes in restaurants and homes. These robots use cameras to determine how well certain ingredients are cooked or where they are positioned.

For example, the first recipe we tackled was Takoyaki*. To cook Takoyaki, the robot needs to recognize the surface conditions, size and shape of each Takoyaki to complete the cooking processes.

We call these technologies that utilize image processing and enable the robots to judge what to do next "Cooking Skills". We are on a mission to make them into libraries.

As an Image Processing Software Engineer, you will be expected to use various types of cameras, develop computer vision software and contribute to expanding the above "Cooking Skills" library.
What you'll do
Develop algorithms to control robots according to position and shape of ingredients or how well they are cooked, processing and recognizing images captured via onboard cameras.
Develop technologies that maintain stable control of robots regardless of environmental factors.
Repeat tests and debugging during development to improve quality.
Combining "cuisine", "image processing" and "robots", we are working on new, fun and challenging projects. We are looking for engineers eager to work with us!
Office location
Nokodai Tama Koganei Venture Port 2-24-16
Nakacho, Koganei-shi
Tokyo, Japan
Nearest station: JR Higashi-Koganei station (7 mins. by walk)
Salary
Will be determined according to experience, background, skills and abilities of the candidate.
Benefits
Minimum 118 days off work annually, including weekends and 14 special paid leaves
* Japanese national holidays are working days in our office, but instead we offer 14 special paid days off on top of regular annual paid leaves. Unlike other developed countries, it's rare to find companies that let you take longer vacations in Japan, but we chose this system because we want our employees to rest well.
* 10 annual paid leaves will be added on top of the above days once you've worked here for more than 6 months. The number of these annual paid leaves will also increase as you stay with us longer.
Commuting expenses covered (a max. limit applies)
Social insurances covered
Rent assistance available (Owned houses are excluded. Some restrictions may apply.)
Unlimited Takoyaki and soft serve available during development periods
Gym and pool in front of the office (200JPY/h)
Pick any computer you like for your job
Free coffee
Skills, experiences and knowledge
Minimum qualifications
Advanced understanding of machine learning
Experience in image processing using OpenCV
Knowledge in feature detection, material recognition, tracking and image segmentation
Implementation skills using Python/C++
Data visualization skills
Preferred qualifications
Experience in robotics/image processing university labs or electrical manufacturer labs
Experience with product development in manufacturers
Experience in development of calibration systems
Experience with robotic control systems
Who you are
Curious, patient and creative, always eager for improvements.
Language skills
Doesn't require Japanese language skills
Excellent command of the English language as you will work with your colleagues in English
Selection process
Casual interview
Skill and aptitude evaluation
Reference check
Final interview
How to apply
Please apply from the link below.